Description
GoPoint Double Parachute Ultralight Hammock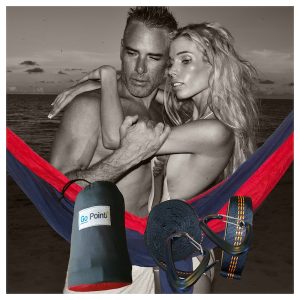 GoPoint Parachute Hammocks are the perfect ultralight portable hammocks for use anywhere you can imagine.
They are made from 210t Nylon which is strong, light and breathable.
We've included 2 very strong hammock tree straps to make hanging your hammock simple and fast.
Gopoint Double hammocks will support 400 pounds easily, but we've loaded them with more weight than that.
We also use special aluminum carabiners with smoothe edges to prevent them from damaging your tree straps or rope.You'll be comfortable and safe wherever you decide to hang your hammock.
Although Gopoint Hammocks are perfect for the beach and camping, and are easy to travel with, so you can use them anywhere, they are also fun and comfortable for using in your home.
We've hung one from our ceiling to a couple of eye bolts, and our kids spend a lot of time on it, playing and being crazy.  It's like a piece of playground equipment for them.  I like to relax in it at home myself.
If you do decide to hang your hammock at home, make sure you have a professional put the eyebolts in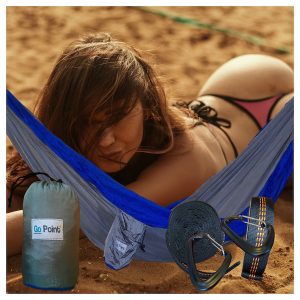 the ceiling so they're secured good enough to hang a hammock from.
By the way, the tree straps and carabiners also make hanging your hammock from eyebolts super quick and easy to do.
We've gone the extra mile in manufacturing gopoint hammocks and had the fabric triple stitched so it's sure to hold up for a long time.
We truly love our hammocks, and we want you to know that Gopoint stands behind their products.  If you are ever unhappy with our products, let us know, and we'll make sure we make it right for you.
The bottom line is, there are a lot of camping hammocks to choose from, and ours is a truly great one.  We hope you feel the same.  Please take advantage of our loyalty club, and save on your hammock purchase.
You can click the button at the top left of the website to sign up to save 20% on your Gopoint Camping Hammock on Amazon today.